Fot. Krzesło Techno firmy D2.
D2. proponuje przede wszystkim krzesła, stołki barowe oraz fotele wyróżniające się nowoczesnym, designerskim wyglądem. Znajdziemy wśród nich modele z polipropylenowymi siedziskami, ale wielbiciele większego komfortu mogą wybrać wersje tapicerowane. W formie dopełnienia występują klasyczne, chromowane nogi, ale w ofercie znajdują się również podstawy drewniane – proste i minimalistyczne, na myśl przywodzące skandynawskie trendy.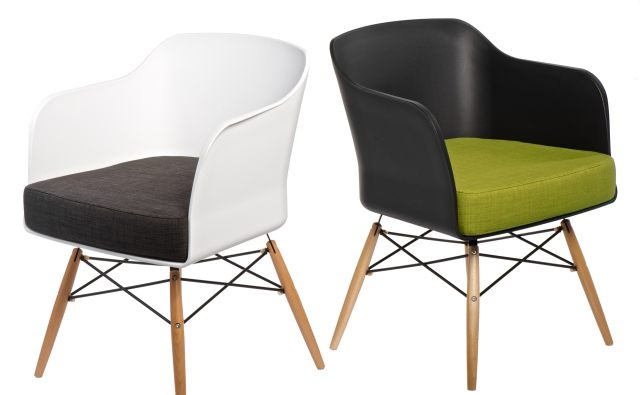 Fot. Fotel Viva firmy D2.
Wszystkie nowe kolekcje charakteryzują się spójnym, prostym wzornictwem, warto jednak przyjrzeć się każdej z osobna.
Seria Techno to stołki barowe oraz krzesła. Wybierać możemy spośród kształtów łagodnych, wyprofilowanych, delikatnie opływowych, ale w asortymencie znajdują się też formy mniej spotykane, skonstruowane z powycinanych paneli, które ożywią każde wnętrze i dodadzą mu energii. Paleta kolorystyczna to ukłon w stronę zawsze sprawdzającej się klasyki w postaci bieli, czerni i szarości, dopełniony niebieskim, a także żywą zielenią, która w pochmurne wieczory będzie soczyście wypełniać wnętrze.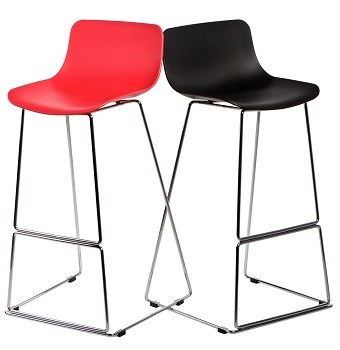 Fot. Stołek barowy Deli firmy D2.
Bardziej klasyczną wersję stołków barowych znajdziemy w kolekcji Deli. To prostota, elegancja i nowoczesność. Siedziska dostępne są w trzech podstawowych wersjach – białej, czarnej i czerwonej. To model uniwersalny, pasujący do każdego wnętrza.
Wielbiciele mniej oczywistych kształtów i form powinni zapoznać się z krzesłami Space. Wycięcia na oparciach dodają krzesłom świeżego, fantazyjnego charakteru, wpływając dodatkowo na komfort korzystania.
Połączenie polipropylenu i tapicerowania to fotel Viva. Kubełkowe siedzisko i podłokietniki gwarantują wygodę, prosta forma decyduje o walorach estetycznych. Fotel występuje w wersji białej i czarnej z kilkoma opcjami barw poduszek.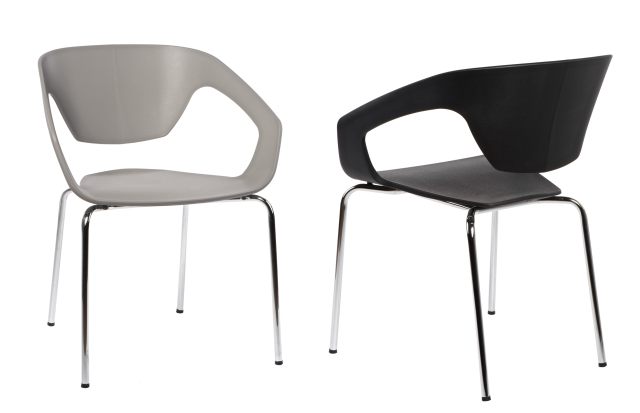 Fot. Krzesło Space firmy D2.
Wzornictwo na wysokim poziomie dopełnione wygodą i komfortem – to właśnie aspekty, którymi powinniśmy się kierować przy wyborze krzeseł, foteli i stołków barowych do naszego wnętrza.
Źródło: materiały prasowe.