Plakat, podobnie jak obraz, to świetna propozycja, by błyskawicznie odmienić wygląd naszego salonu, sypialni czy przedpokoju. Jednak w porównaniu do wizerunków na płótnie plakat wygląda o wiele bardziej nowocześnie, zwłaszcza gdy sięgniemy nie po fotografię, lecz artystycznie wykonaną ilustrację. Leśne przedstawienie będzie się doskonale prezentować i w tradycyjnym mieszkaniu, i w industrialnym wnętrzu, i w skandynawskiej stylistyce. Właśnie ta uniwersalność sprawia, że jest to dekoracja, po którą może sięgnąć w ciemno każdy miłośnik natury! A czym warto się kierować, szukając najlepszego rozwiązania dla siebie? O radę poprosiliśmy specjalistę z Redro.pl: – Kryterium, które należy wziąć pod uwagę, to z pewnością kolorystyka. Jeśli nasz pokój jest dość ciemny, mroczna, artystyczna fotografia tylko pogłębi przygnębiający charakter przestrzeni. Z kolei w jasnym, skandynawskim salonie takie zdjęcie będzie ciekawie kontrastującym akcentem. Stylistyka również jest bardzo ważna. O ile graficzny plakat z napisem i wizerunkiem lasu sprawdzi się we współczesnym wystroju, o tyle w romantycznym już niekoniecznie. Oglądając więc dostępne w sklepie internetowym wzory, pamiętajmy o tym, by przedstawienie wyglądało dobrze nie tylko na ekranie komputera, ale przede wszystkim w naszym mieszkaniu.
Nie tylko Bieszczady
Nasze rozważania na temat trendów w aranżacji wnętrz rozpoczęliśmy od tego, że coraz chętniej sięgamy po rozwiązania, które zbliżają nas do natury. Właśnie dlatego naszą pierwszą propozycją będzie soczyście zielony plakat. Las stanowi znakomitą ucieczkę od głośnego i ruchliwego miasta, dlatego jeśli nie możemy sobie pozwolić na to, by regularnie spędzać w nim czas, wprowadźmy go pod nasz dach, wieszając na ścianie malownicze przedstawienie. Choć z pewnością naszym pierwszym skojarzeniem będą Bieszczady, możemy puścić wodze fantazji i sięgnąć nawet po tropikalne lasy deszczowe pełne paproci i palm.
W tworzeniu wystroju chodzi przede wszystkim o to, by wyczarować przestrzeń, która stanie się dla nas idealnym miejscem do życia i wypoczynku. Możemy postawić na iglaste bądź liściaste gatunki, na egzotyczny zakątek lub nasz rodzimy, brzozowy zagajnik, na pogodne przedstawienie lub romantyczny plakat – las we mgle. Każda propozycja, która przypadnie nam do gustu, jest trafiona.
Stali mieszkańcy lasu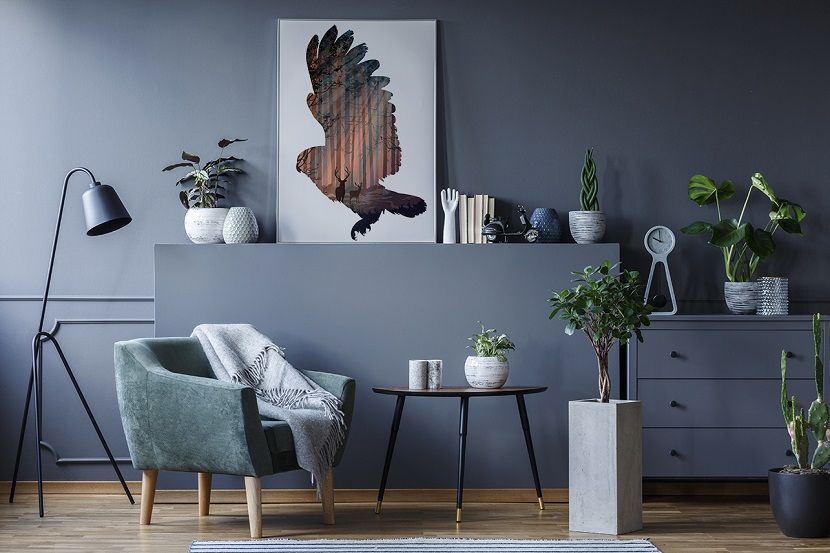 Wbrew temu, co mogłoby się wydawać, wizerunki zwierząt sprawdzą się nie tylko w pokoju dziecka. Musimy jednak wiedzieć, jaki wzór wybrać, by osiągnąć najlepszy efekt.
Bardzo efektowną propozycją jest artystyczny w wyrazie plakat. Las wpisany w kształt zwierzęcia jest rozwiązaniem, które będzie doskonale pasować do nowoczesnej aranżacji i z pewnością zachwyci wszystkich miłośników zwierząt. W tym przypadku również mamy sporo możliwości do wyboru – jeleń o majestatycznym porożu, sowa z rozpostartymi skrzydłami lub groźny niedźwiedź. Każda z sylwetek wypełniona jest nieco innym, ale równie malowniczym zakątkiem. By w pełni wykorzystać potencjał takiego wzoru, warto postawić na wielkoformatowy plakat. – doradził nam ekspert z Redro.pl.
Typograficzny akcent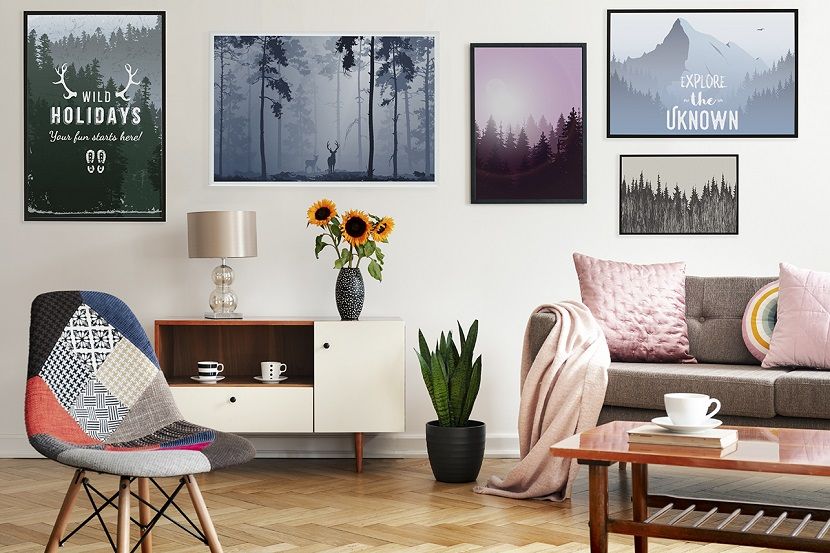 Wśród naszych propozycji znalazły się także plakaty, które przypadną do gustu wielbicielom nowoczesnych i minimalistycznych aranżacji. Tak urządzoną przestrzeń również można wizualnie ocieplić, wprowadzając odpowiedni akcent dekoracyjny. W tym wypadku postawimy na typograficzny wzór z motywem lasu. Jego uproszczona sylwetka będzie korespondować ze współczesną estetyką wystroju, jednocześnie przełamując nieco chłodny w wyrazie charakter pokoju. Jakie hasła mogą się znaleźć na takim przedstawieniu? "Explore the unknown", "Stay wild" lub "Let the adventure begin!". Taki plakat będzie stanowił idealne połączenie miłości do przyrody i miłości do podróżowania. Na zakończenie ekspert ma dla nas jeszcze jeden pomysł: – Taki wzór może się stać pierwszym krokiem do stworzenia tzw. gallery wall, czyli kompozycji składającej się z wielu przedstawień umieszczonych obok siebie. Nie musimy się ograniczać tylko do gotowych propozycji. Zawieśmy także fotografie z naszych podróży i zamieńmy pustą do tej pory ścianę w relację z naszych wypraw.
Plakat z lasem  może zmienić o wiele więcej w naszym wystroju, niż moglibyśmy przypuszczać. Leśny wizerunek pozwoli nam się cieszyć namiastką przyrody bez względu na to, gdzie mieszkamy, a jeśli do wnętrza wprowadzimy także duże doniczkowe rośliny, nasze mieszkanie w mgnieniu oka zamieni się w zieloną oazę spokoju.