Ogień towarzyszył człowiekowi od początków cywilizacji, wpłynął na jej rozwój, powstało wiele mitów na jego temat w niemal wszystkich kulturach. Posiada moc niszczącą, ale też twórczą i ochronną. Ogień to centrum domostwa. W dzisiejszych, nowoczesnych domach takim centrum skupiającym całą rodzinę w cieple może być kominek. Jest kilka podstawowych i popularnych stylizacji kominków, ale jest też wiele nietypowych i zaskakujących. Jednak to od naszej inwencji i wyobraźni zależy jaki ostatecznie charakter przybierze to domowe palenisko.
Do wnętrz tradycyjnych i rustykalnych pasował będzie kominek jak wyjęty z góralskiej chaty. Musi być odpowiednio duży – z dużym paleniskiem i wydatnym okapem, będzie niemal dominować nad przestrzenią. Zbudowany jest zazwyczaj z wapienia, lub piaskowca, albo z kamieni. Jego niski okap w kształcie trapezu jest wykończony drewnianą belką lub cegłami, może mieć tzw. zapiecek albo schowek na polana. Taki kominek przyozdobić można we wszelki sposób, na drewnianej belce nad paleniskiem dobrze będą wyglądały starodawne przedmioty codziennego użytku, znalezione na babcinym strychu, albo kupione na targu staroci, ale to również dobre miejsce na ustawienie rodzinnych pamiątek.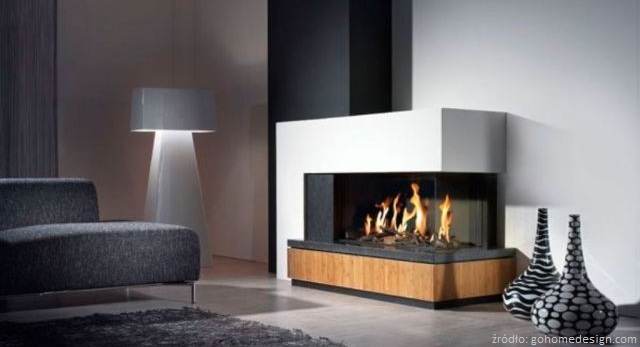 Najbardziej klasycznym kominkiem jest tzw. portalowy francuski i angielski. Historia takich kominków sięga średniowiecza, kiedy to były źródłem ciepła w zamkach i pałacach. Wtedy ogromne i kamienne dopiero w czasach baroku i klasycyzmu przybrały formę, która bardziej pasuje do współczesnych wnętrz. Najbardziej efektowne wykonane są z marmuru, ale też mogą być z innych rodzajów kamienia. W baroku przybierały lekkie i łagodne formy oparte na łukach i motywach florystycznych oraz na muszlach, charakteryzowały się dużą ilością zdobień i fryzów. Dziś taki kominek odnajdzie się w nowoczesnych wnętrzach dworkowych, może już nie tak bogato zdobiony, ale zawsze warto czerpać inspirację z tych dawnych dzieł sztuki. Pokrewny jemu kominek angielski wykształcił się w XVIII wieku w czasach georgiańskich, był oszczędniejszy w formie i miał zgeometryzowany kształt. Na jego klasycystyczny styl nawiązujący do epoki starożytnego Rzymu składały się kolumny, bądź pilastry zwieńczone ozdobnymi wspornikami, podtrzymującymi ozdobny gzyms. Wydatne nadstawki czasem sięgające sufitu, często stanowiły oprawę dla rodzinnych portretów albo wykwintnych luster. W wieku XIX rozpowszechnił się styl wiktoriański, bardzo eklektyczny, ale kominki charakteryzowała żeliwna osłona paleniska z okapem, zazwyczaj była ona bogato zdobiona. Dziś w uproszczonej formie takie kominek będzie doskonałą inspiracją dla aranżacji niedużego salonu. Klasyczne formy można przerabiać i udoskonalać na różne sposoby, choćby nadając im żywe kolory, albo wzbogacając o ciekawe dzieła sztuki ustawione na gzymsie.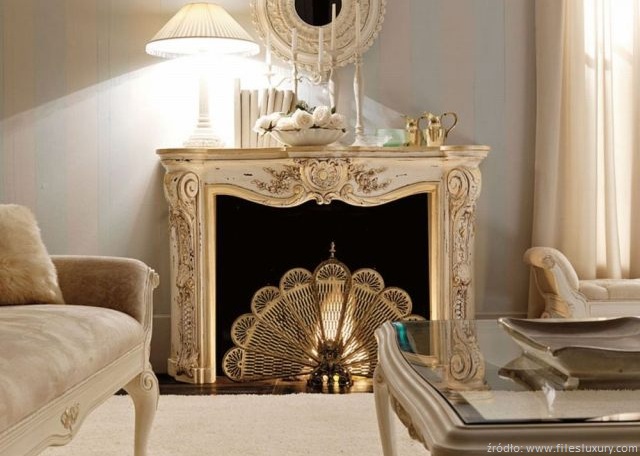 Kominki nowoczesne nie znają reguł, mogą przybierać różne formy i czerpać z różnej stylistyki. Mogą być wbudowaną w ścianę szczeliną pełną ognia, albo minimalistycznym paleniskiem ustawionym na środku salonu. Niezwykle prezentują się kominki zamknięte w szkle – ich okap wykonany jest z tafli szkła dzięki czemu można podziwiać płonące drewno w całej okazałości i ze wszystkich stron, to tak jakby się miało ognisko w salonie. Natomiast kominki zamknięte w metalowych ramach o przeróżnych kształtach mogą wyglądać jak modernistyczne rzeźby. Metal i szkło doskonale pasują do wnętrz minimalistycznych w tylu high-tech. Nic tak nie sprzyja wypoczynkowi przy ogniu jak dobra lektura, dlatego czemuż by nie obudować kominka półkami na książki. Kominek potrzebuje drewna i wcale nie trzeba go chować w składzikach i komórkach – doskonałym elementem stylizacyjnym będzie uwydatnienie ułożonych szczap drzewa w koszach albo stojakach, można też dobudować specjalny schowek na drewno w ścianie obok kominka.

Co jednak, kiedy marzymy o kominku, a mieszkamy w blokach, gdzie nie ma dostępu do odpowiedniej instalacji kominowej? Również na to jest rozwiązanie – biokominek. Wielu producentów oferuje kominki, które zasilane są bezpieczną i ekologiczną dla środowiska substancją. Nie potrzeba do tego żadnych instalacji, taki kominek sam stanowi zintegrowaną całość, stawia się go w wybranym wcześniej miejscu. Do złudzenia przypomina klasyczny kominek, a przy tym posiada duże możliwości grzewcze.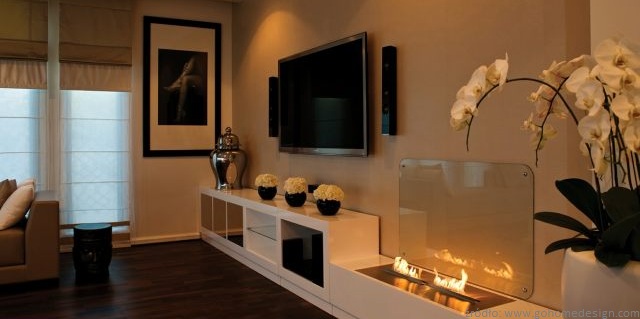 W kominkowej aranżacji ważne są także akcesoria, które nie tylko dopełnią wystrój, ale przede wszystkim ułatwią korzystanie z dobrodziejstw domowego paleniska. Są to na przykład kratki kominkowe, albo kosze. Kratki zapobiegają wydostawaniu się płonących polan i ich fragmentów z kominka. Rozpalanie w kominku i czyszczenie go ułatwiają takie przybory jak miotełka, łopatka, szczypce i pogrzebacz, warto wyposażyć się również w specjalne długie zapałki i rękawice dla bezpieczeństwa.