Fot. Kolekcja Parole, Pinio
Mebelki dla dzieci do spania
W ofercie znanego dostawcy produktów do wyposażenia domu, firmy IKEA, znajdziemy mebelki dla dzieci podzielone według dwóch grup wiekowych: dla małych dzieci i dzieci w wieku 3-7 lat. W pierwszej z nich ważną kategorię stanowią łóżeczka ze szczebelkami. Najtańsze, wykonane z litego buku, kosztuje 119 zł. Jego podstawę można zamontować na dwóch różnych wysokościach, dzięki czemu łóżko może służyć przez dłuższy czas. Kiedy maluch będzie umiał sam wstawać, wystarczy obniżyć podstawę, aby ochronić dziecko przed wypadnięciem. Modele łóżeczek wyposażone w dolne szuflady kosztują 599 zł.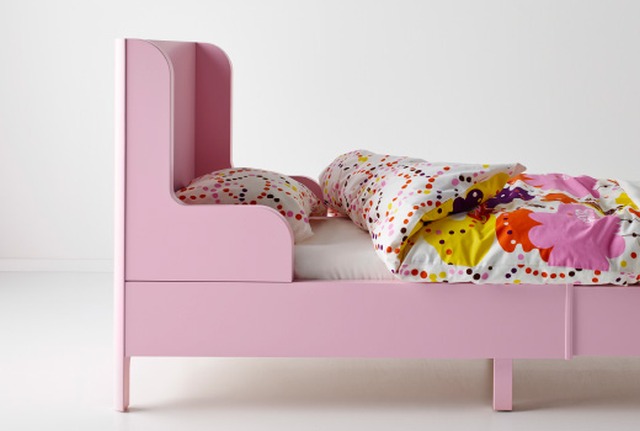 Fot. Łóżko Bosunge z regulowaną ramą, IKEA
Łóżeczka dla starszych dzieci, w wieku 3-7 lat, są bardziej różnorodne. Odnajdziemy wśród nich m.in. modele z baldachimem, z regulowaną długością ramy, z zagłówkiem pełnym lub szczebelkowym, łóżka białe, czarne, drewniane i kolorowe.
Wygodnym rozwiązaniem dla rodzica są mebelki dla dzieci wyposażone w dodatkowe funkcje, np.
​
Łóżeczko z przewijakiem i komodą – taki mebel zabiera mniej miejsca w pokoju niż dwa, oddzielne sprzęty. Dodatkowo zapewnia lepszą organizację, ponieważ w obrębie jednego meble można umieścić najpotrzebniejsze rzeczy dla niemowlaka. Taką propozycję odnajdziemy m.in. w ofercie firmy Bellamy.
Łóżeczko na kółkach – kółka ułatwiają przemieszczanie łóżeczka – na co dzień może być one umieszczone w pokoju niemowlaka, a w razie konieczności przysunięte np. do łóżka rodziców. Kółka wyposażone są w blokadę, która zapewnia bezpieczeństwo jego użytkowania.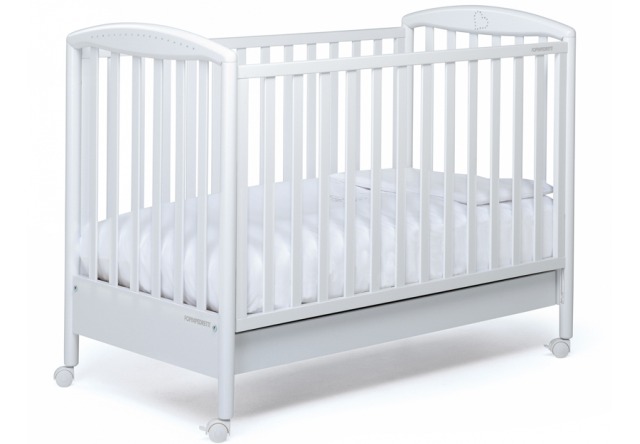 Fot. Łóżeczko Cristallino, Foppapedretti, gotowewnetrza.pl
Wybierając mebelki dla dzieci do spania, dostosujmy je do sposobu leżakowania dziecka. Jeżeli maluch często zmienia położenie w czasie snu, wybierzmy łóżeczko niskie lub z ramą zabezpieczającą przed spadnięciem na podłogę.
Mebelki dla dzieci – pierwsze biurko
Mebelki dla dzieci, takie jak stolik i krzesełko dostosowane do wzrostu kilkulatka, pełnią rolę pierwszego biurka. To przyjazna strefa nauki, gdzie dziecko może rysować, kolorować, uczyć się pisać i czytać. Ciekawy produkt zaprezentowała firma Smyk, która zaprojektowała stolik z dwustronnym blatem. Po jego odwróceniu stolik może pełnić rolę np. piaskownicy. Takie dwufunkcyjne mebelki dla dzieci będą kreatywną przestrzenią do zabawy.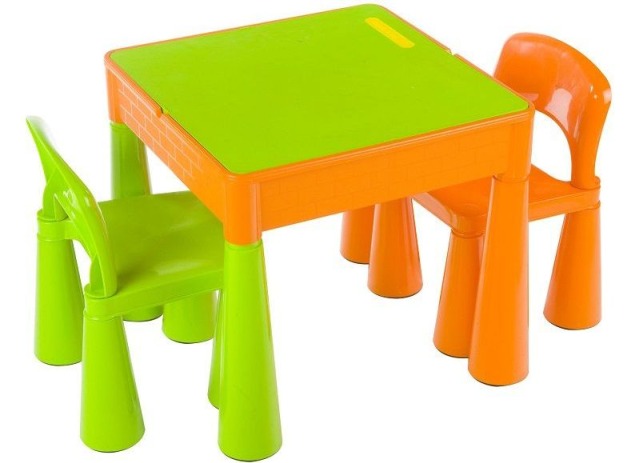 Fot. Stolik Mamut, producent Tega, SMYK
Pamiętajmy, aby przed kupnem mebelków sprawdzić, jakie jest maksymalne ich obciążenie. Ponadto bardzo ważne jest dostosowanie ich wymiarów do wzrostu malucha. Wysokość mebli dla dzieci według normy PN-EN 1729, powinna wynosić:
​
Dla dziecka o wzroście 800 – 950 mm: wysokość siedziska – 210 mm, wysokość blatu 400mm
Dla dziecka o wzroście 930 – 1160 mm: wysokość siedziska – 260 mm, wysokość blatu 460mm
Mebelki dla dzieci to również szafy i komody, które zapewniają niezbędną przestrzeń do przechowywania rzeczy malucha. Jeżeli ozdobimy je barwnymi naklejkami i malunkami z ulubionych bajek dziecka, przemienią one jego pokój w wymarzoną przestrzeń zabawy.
Polecamy: