Fot. Kolekcja Mio, Vox
Jak utrzymać porządek w przedpokoju?
Przedpokój to zazwyczaj niewielkie miejsce, w którym musimy zmieścić dużą ilość rzeczy. Niezwykle ważna podczas jego aranżacji jest zatem ergonomia. Polegajmy na schowkach i szafach pojemnych, ale przy tym niezabierających wiele przestrzeni użytkowej. Przedpokój służy często jako ścieżka komunikacyjna między pokojami, sposób jego urządzenia nie może zatem utrudniać swobodnego przemieszczania się. Do aranżacji przedpokoju idealne będą szafy na wymiar pokrywające całą ścianę bądź też te wypełniające wnęki. Nie stosujmy standardowych drzwi, które utrudniają komunikację we wnętrzu. Zamiast nich wybierzmy drzwi żaluzjowe bądź przesuwane, które nie wymagają wolnej przestrzeni przed szafą do ich otworzenia.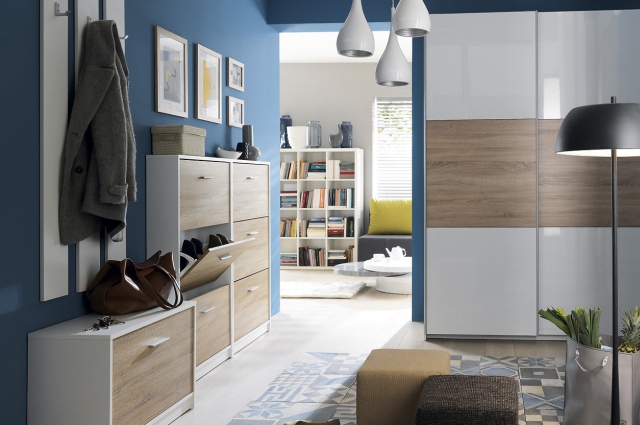 Fot. Kolekcja Nepo, BRW

Aby ułatwić sobie utrzymanie porządku i zredukować liczbę rzeczy w przedpokoju, warto wygospodarować miejsce na garderobę w innym pomieszczeniu. Wtedy w przedpokoju trzymać będziemy tylko aktaulnie noszone nakrycia wierzchnie – na przykład elegancko wyeksponowane na hakach czy wieszakach.
Przydatnym i niezwykle praktycznym elementem aranżacji wnętrza jest również pawlacz, który przyda się do przechowywania sprzętów i przedmiotów rzadko używanych.
Aranżacja przedpokoju – co zrobić z butami?
Buty warto segregować według sezonów – te, których obecnie nie używamy niech będą schowane, aby nie przeszkadzały. Włóżmy je do pudełek, które zapobiegać będą brudzeniu się butów i ich odkształcaniu. Tak zabezpieczone ustawmy na najwyższych półkach lub w głębi szafek. Buty, z których korzystamy aktualnie również powinny być przechowywane w pudełkach.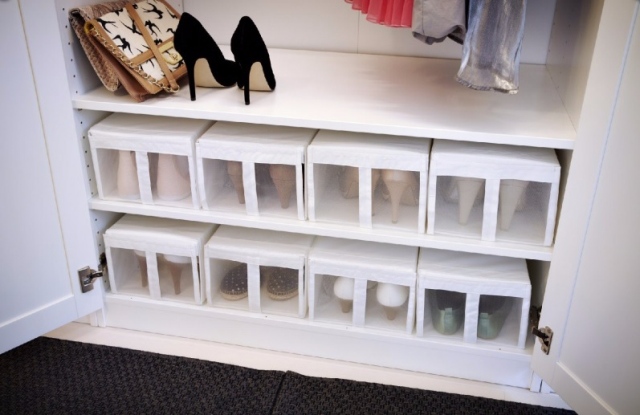 Fot. Ikea
Aby ułatwić dostęp do obuwia dobrze zaopatrzyć się w specjalne opakowania otwierane z boku albo zamykane na rzep ze ścianką z siatki. Można ustawić je na sobie, dzięki czemu nie będą zajmować dużo miejsca, zapewniając jednocześnie łatwy dostęp do butów, a także odpowiednią wentylację.
Na przechowywanie butów są jednak i bardziej niekonwencjonalne sposoby. Metodą, która umożliwia ich funkcjonalne przechowywanie i pełni rolę oryginalnej dekoracji, jest szyna kuchenna zamontowana na ścianie w przedpokoju. Dobrym pomysłem są również szafki na buty zintegrowane z ławą, na której można usiąść i wygodnie założyć obuwie.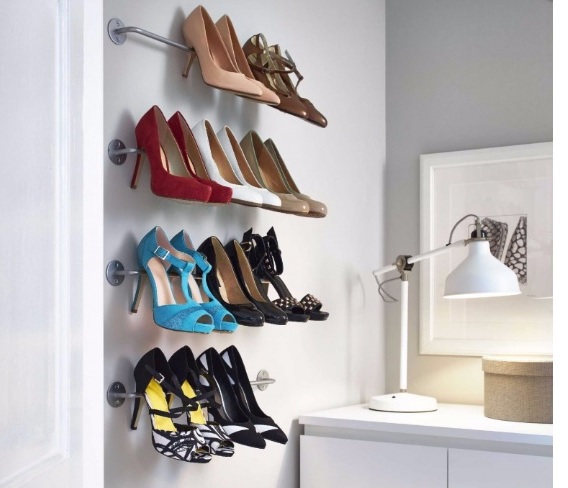 Fot. Ikea
Przedpokój – jak uczynić z niego wizytówkę domu?
Przy aranżacji przedpokoju nie możemy zapominać, że poza pełnieniem funkcji ścieżki komunikacyjnej, a także schowka na przeróżne rzeczy jest to wizytówka domu. Dlatego też, nawet w niewielkim przedpokoju, nie można zapominać o dekoracjach. Dobrym pomysłem jest stworzenie na ścianach mini galerii ze zdjęć bądź grafik. Przyjaznym akcentem aranżacji przedpokoju będą także rośliny – jedna duża doniczka na ziemi, bądź eleganckie kwietniki zawieszone na ścianie.
Polecamy:
​