Podświetlenie typu LED
Jest to rodzaj podświetlenia schodów, który został uznany za najbardziej energooszczędny. Oświetlenie typu LED ZOS jest dostosowywane do liczby stopni, do ich wymiarów oraz koloru. Na ten rodzaj podświetlenia można się zdecydować w każdej chwili, ponieważ techniki montażowe pozwalają na założenie systemu LED nawet na ukończonych schodach. Istnieją również inne sposoby instalowania oświetlenia schodowego typu LED. Jedna z opraw jest ukrywana we frezie pod stopniem. Inny rodzaj montażu polega na umieszczeniu oprawy w rogu schodów – między stopniem a podstopnicą.
Oświetlenie schodowe LED jest produkowane z komponentów wysokiej jakości. Specjaliści radzą, aby decydując się na ten typ podświetlenia, zainwestować również w czujnik ruchu, który będzie włączał i wyłączał światło w zależności od potrzeb domowników. Dzięki temu dodatkowo można zaoszczędzić energię elektryczną i nie wychodząc z domu, zadbać o środowisko.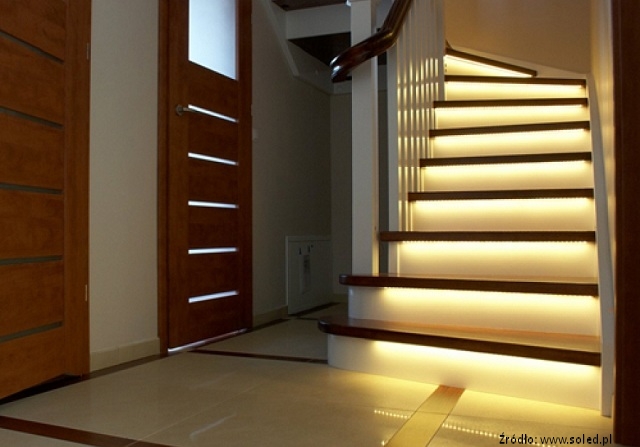 Oświetlenie schodowe typu LED jest montowane również pod poręczą oraz z jednej strony schodów – zazwyczaj ok. 20 cm. nad stopniem. Jest to rozwiązanie, na które można zdecydować się w każdej chwili, nawet wiele lat po zakończeniu budowy domu, ponieważ nie wymaga demontowania stopni. Kolejnym plusem jest krótki montaż i uzyskanie, tuż po nim, bardzo nowoczesnego wyglądu wnętrza.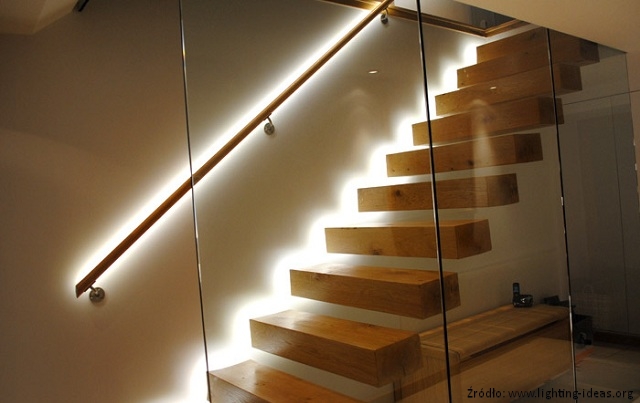 Doskonale wygląda również ledowe oświetlenie schodów wykonanych z przezroczystego materiału. Wówczas w ciemności odnosi się wrażenie, że cała powierzchnia stopnia iskrzy jasno-niebieskim światłem. Jest to bardzo nowoczesne i odważne rozwiązanie.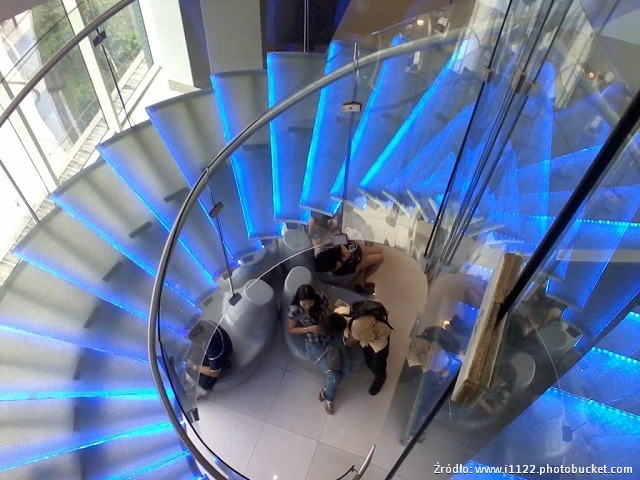 Bardzo oryginalnym typem podświetlenia schodów jest zainstalowanie w szklanej balustradzie, bądź poręczy wykonanej z innego przezroczystego materiału, podświetlenia ledowego. Najczęściej jednak takie oświetlenie schodów jest niewystarczające i trzeba je wzmacniać za pomocą zwykłych lampek ściennych. Wygląda jednak przepięknie, a tym samym stanowi doskonały element dekoracji wnętrza
Łatwo zauważyć, że oświetlanie schodów za pomocą lampek ledowych jest bardzo popularne i można je stosować na wiele sposobów. To rozwiązanie bardzo efektowne, tanie w eksploatacji a przede wszystkim ekologiczne.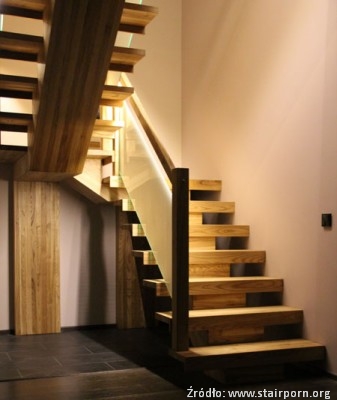 Inne rozwiązania oświetlenia schodowego
Poza oświetleniem schodów lampkami typu LED istnieją również inne rozwiązania, które również potrafią nadać wnętrzu niezwykły i oryginalny wyraz.
Nowoczesne połączenie tworzywa sztucznego z drewnem i odpowiednim oświetleniem jest rozwiązaniem, na które coraz częściej decydują się projektanci domów. Dzięki tego typu bocznemu oświetleniu schodów poszczególne stopnie są doskonale widoczne w ciemności. Ponadto schody pięknie wyglądają nie tylko z frontu, ale również z boku. Oświetlenie pełni więc funkcję dekoracyjną i stanowi swoiste centrum pomieszczenia.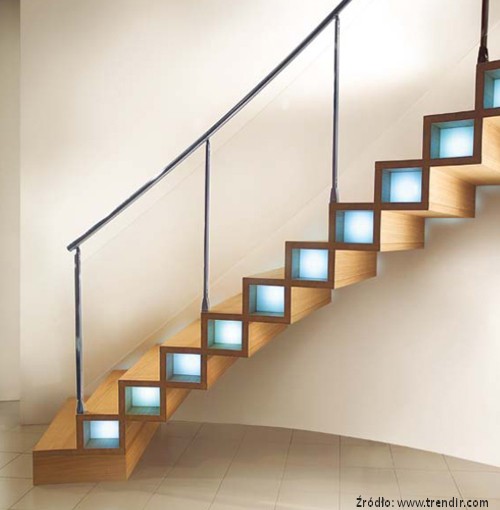 Natomiast jeżeli pomiędzy stopniami są przerwy, a schody znajdują się przy ścianie, bardzo efektownie wygląda podświetlenie podschodowe ścienne. Wystarczy w odpowiednich odległościach zamontować na ścianie lampki. Takie oświetlenie schodowe wygląda bardzo efektownie i jest tanie w realizacji. Do tego jeżeli ściana ma intensywną barwę, za pomocą odpowiedniego oświetlenia, na stopniach uzyska się efekt kolorowej poświaty. Wygląda to bardzo nowocześnie i nadaje wnętrzu niepowtarzalny wygląd.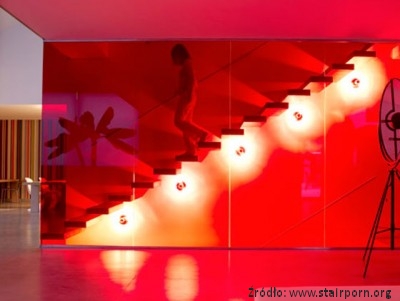 Orginalnym pomysłem może być także ustawinie lampek Led na stopniach schodów. Tu wybór jest szeroki. Od standardowych kształtów po lampki ktore do złudzenia przypominają szklanki wypełnione mlekiem.


Najbardziej standardowym typem oświetlenia schodowego jest montowanie lampek nad schodami – na suficie bądź na ścianach. W przypadku oświetlenia na ścianie należy pamiętać, żeby lampki znalazły się na odpowiedniej wysokości i miały matowe klosze, dzięki czemu ich światło nie będzie oślepiać osoby wchodzącej po schodach.
Podsumowując, coraz popularniejsze staje się oświetlenie schodowe lampkami typu LED. Można je montować w samym stopniu, w balustradzie, w ścianie czy pod poręczą. Są jednak także inne sposoby oświetlania schodów i choć często są tańsze w montażu od "ledowej konkurencji" dają podobny efekt, a przede wszystkim spełniają podstawową funkcję – dzięki nim dom staje się bezpieczny.